Temporary Fence Panel Systems – Rental Fencing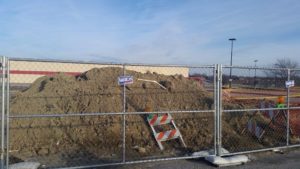 Installing a chain link panel fencing system is a quick and convenient solution. Our custom-built fence panels are of the highest quality and can be built to suit as we designed these panels to be installed with both driven posts and stands.
American Fence Rental Company's panel fence systems come with multiple installation options to accommodate your project. You may choose to drill into existing paving to support the posts. If you don't want to disturb the paving, you may use our freestanding system that requires no drilling. Our systems are designed to be 100% customizable, portable, and easy to configure and reconfigure into many shapes as your projects evolve.
About Our Temporary Rental Fence Panels:
Most temporary fence panels we built are typically 12 feet wide and six or eight feet tall, however, we can accommodate your unique specifications if you require a different size. American Fence Rental Company has a custom metals fabrication department that fabricates unique custom temporary enclosures. We actually built the temporary containment system for the reintroduction of the wolves to Yellowstone National Forest. The panels are constructed of sturdy structural fence tubing. We install cross-bracing to provide additional support to the framework and panel frame. Galvanized high-quality chain link fabric is then stretched in the panel frame to ensure a perfect fit. Each panel is interlocked and held into place by a post that has an exclusive interlocking ring system that makes it easy to either drive the posts or set the posts into a stand.
Request a FREE Quote for our Temporary Fence Panel Systems or Contact Us at one of our convenient locations.