Temporary Chain Link Fence Rental
Temporary post and fabric chain link fence are the best means to create a continuous well-anchored secure barrier around the perimeter of your project.
Perfect for:
Residential Construction
Commercial Construction
Special Events
Crowd control
Marathons
Concerts
Large outdoor events
Car races
Additional Options
Barbwire
Privacy Screening (visual and dust protection)
What makes our Temporary Chain Link a good choice?
If you're looking to rent a temporary fence that offers a more secure barrier, you definitely want to consider a temporary post and fabric installation. Always installed by our seasoned installation staff, American Fence Rental Company will ensure that your temporary rental fence is installed where it's needed and always with safety top-of-mind.
More About Our Temporary Chain Link Fence Rental Systems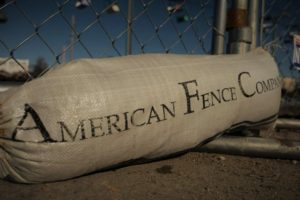 Temporary chain link post and fabric fence installation is performed by driving posts into the ground. If necessary, we will core drill into concrete or asphalt surfaces first and then drive the posts. If you do not wish to break up existing surfaces, the posts can be installed into portable stands that are anchored with 60-pound sandbags. The posts in our system are typically 12 feet on center. However, if you select to install screening, posts should be eight feet on center.
After post-installation, the chain link fabric is installed per industry standards. If you intend to attach screening to the chain link fencing fabric, we recommend installing a continuous top rail along to provide adequate support for the additional weight.
Request a FREE Quote for our Temporary Chain Link Fence Rental Systems or Contact Us at one of our convenient locations.