Security Options for Temporary Fence Rentals
Once you have selected your temporary fence system, you may need added security or an upscale installation due to a high-visibility or high-traffic site. American Fence Rental Company has the latest in security options for temporary fences to address your security and access concerns.
Barbwire Security Top
Three strands of barbwire on vertical or forty-five-degree outriggers may be added to the top of your temporary fence.
The Barbwire Security Top is the ultimate for discouraging unauthorized access to your site or event space by preventing intruders from climbing over the temporary fence. Additionally, it sends a powerful visual message that intruders will not be tolerated.
Bottom Tension Wire
A six-gauge spring steel tension wire may be placed at the bottom or top of your post and chain link fabric installation. This is a perfect solution for preventing any efforts by intruders to crawl underneath or over your temporary fence installation.
The heavy-gauge tension wire provides taut support and strength to the fence to prevent anyone pulling up the bottom of the chain-link fabric or pushing down the top of the fence to climb over. Tension wire is attached to the fence with hog rings every 2 feet.
Top Rail Framework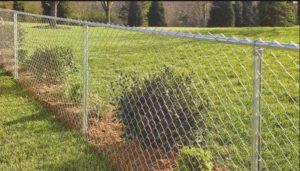 A large diameter rail may be added to the top of the fence to provide a clean, consistent, and professional finished look to your temporary fence. This rail should also be used when adding a high-profile windscreen to add support and keep the screening neat and secure.
A top rail also prevents anyone from attempting to push over or bend the top of your temporary fence system to gain access to your site.
The Ultra Latch
The Ultra Latch by The American Fence Company is the only non-removable, no-cut, anti-cut padlock, two-sided gate latch available. No bolt cutters can reach the lock. No hand saw will get you through this lock. It was created for the high-security demands of the Nation's largest energy providers and is exclusively available through The American Fence Company. Click to Learn More about the ultimate in security latch technology.
Access Control Devices
Every site has its unique requirements, special security needs, insurance, safety, and liability concerns. You may consider an upgraded pedestrian entrance that includes:
Handicap doorknobs
Professional keyed locks that are keyed alike.
Door closures
Panic push bars
Added mini mesh surround
Automated entrance devices.
For a vehicle entrance, you may consider the following options:
Automated opening and closing with electric gate operators.
Photo-electric monitoring.
Traffic loops for entrance, exit, and monitoring
Transmitters, push-button and keyed entry
Intercom, computerized, or phone entry devices.
Request a FREE Quote to inquire about our security upgrades for Temporary Fence Systems or Contact Us at one of our convenient locations.