How to Figure Out the Right Temporary Construction Fence Design for You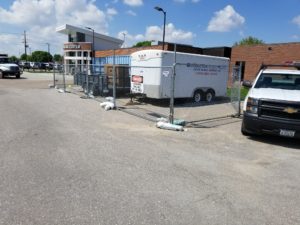 When the time comes to select your next temporary construction fence design, American Fence Company will use their vast knowledge and expertise to help you select the right design for your project. With decades of experience, we are ready to help you navigate your next temporary fence project needs. Here are some of the key topics to bring up with your American Fence Company estimator.
Height of fence: Six feet tall is a typical temp fencing height and in most cases adequate for project standards. Some projects may warrant fencing that is even taller. With several different heights of chain link mesh in stock, we are sure to have the right height for your site security needs.
Best installation method: In most cases, we can simply drive the posts into the dirt grade. In some circumstances, your project security fence will be located on concrete. In these cases, we have a panel and stand system that can be installed on most hard surfaces. This system utilizes a series of sandbags to provide weight to secure the stands. American Fence Company has sandbags for a quick turnaround on installation schedules.
Gates and other additions: Several temporary fence additions can be added to your construction fence. We have a large variety of stock gates, so we are sure to carry a gate that's right for you. Even if, by some chance, we do not have the correct gate size to suit your needs, we have a full-service welding shop so we can custom build any size of gate you need. Another popular construction fencing addition is a windscreen. You can even add your company name or logo for increased exposure. Once you add a windscreen, you will want to add a top rail to ensure your construction fence stands up to those famous Midwest winds.
Temporary fence maintenance: You may choose to have the American Fence company maintain your temporary fence. With Midwest storms that can sometimes get violent, this option is gaining popularity. With an added cost, we can arrive on-site upon your request to provide maintenance on your rental fence system.
Duration of the temporary rental fence: Any length of time, no matter how short or long term, can be accommodated with the American Fence Company rental fence.
Location of your project: With seven locations spanning several states in the Midwest (and more to come), we are only a phone call away.
Call us or contact us today for your no-cost, no-obligation temporary rental fence construction project needs. American Fence Company of Grand Island proudly serves Grand Island, Norfolk, North Platte, Hastings, Kearney, Columbus, McCook, and surrounding communities. Check out our contact us page for our other branch locations.